We are excited to offer the newest addition to the Hyaluronic acid filler family Juvéderm VOLUMA™ XC.
Juvéderm VOLUMA™ XC is the first and only FDA approved filler to instantly correct age-related volume loss in the mid-face(cheek) area. When we are young we have a defined jaw line with smooth contours, and our cheeks and upper-face are full of volume. But as we age, the overall shape & contour of the face changes.This is because over time we gradually loose facial volume, our skin becomes thinner and the effects of gravity can become apparent.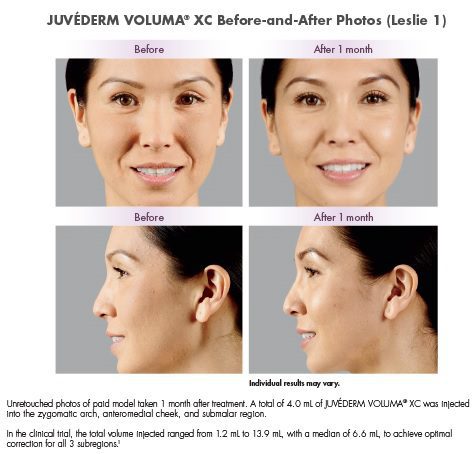 Juvéderm VOLUMA™ XC will give you a subtle lift, helping to restore curve and a more youthful profile adding volume to the cheekbone area. That means, not only is the cheek area restored to a more youthful look, but the lower face is lifted as well by the increased volume of the cheeks resulting in less filler in the folds/lines around the mouth.
In clinical studies, VOLUMA™ XC has proven to last up to 2 years with optimal treatment.